Season 19 - Fall 2019
Season 19 Super Bowl Results
Congratulations to Neon Pink for winning the Season XIX championship! Many thanks to all the fans who came out to watch the games in Arlington. We know none of you wanted to see AJ and Antwon win a second championship, but we hope you had fun nonetheless!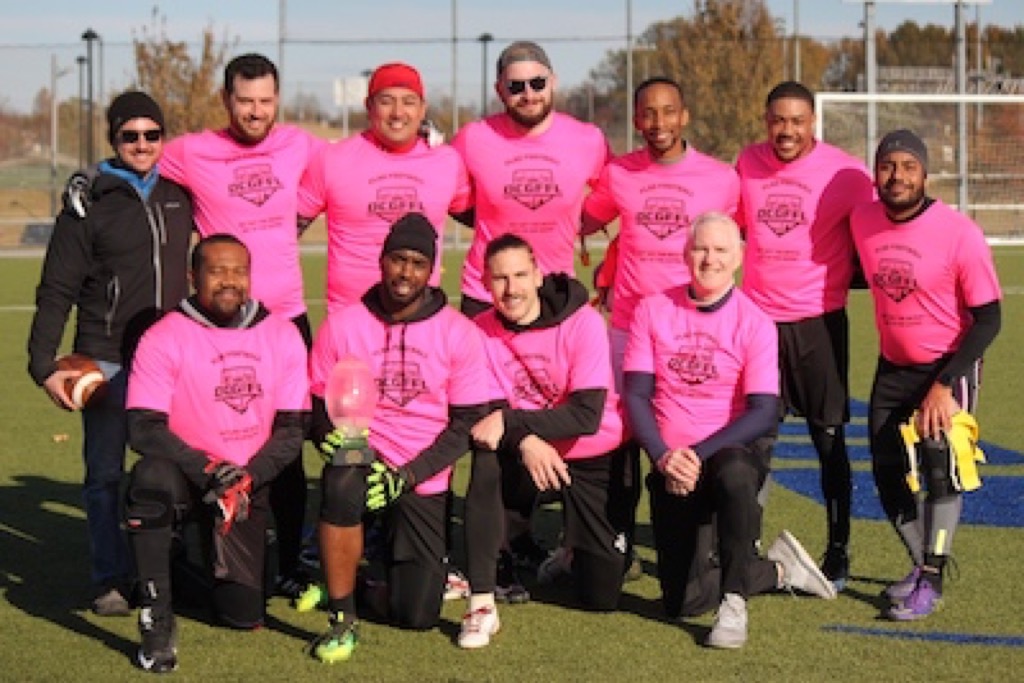 You can view all the photos from the finals here.
Awards
Please extend your congratulations to all these extremely deserving league members that won an award this season:
Charlie Salem Award: Joe Heron
Legends Award: Alonzo Mable and James Santos
Female MVP: Nikki Kasparek
Male MVP: JC Adams
Defensive MVP: Ben Hunt
Offensive MVP: AJ Reust
Female Rookie of the Year: Ashley Hollander
Male Rookie of the Year: Alex Kizer
Golden Whistle: Matt Cline
Ally: John Boyd and John Clemons
Sportsperson: Mike Osorio
Your New Board
Season XIX is now over, and that means we have a new board to introduce!
Thank you to our outgoing members, Keaton Fedak, Vincent Culliver, and Steph McDaniel, for all your hard work over the past year!
The DCGFFL board for Season XX consists of:
Brandon Waggoner - Commissioner
TJ Baggett - Director of Players
Mike Zgoda - Treasurer
Sean Karson - Director of Communications
JJ Johnson - Director of Operations
Mark Summerside - Social Director
Final Four
The Final Four took place at Long Bridge Park at 475 Long Bridge Drive, Arlington, Virginia.  Congratulations to Maroon, Deep Orange, Atomic Blue, and Neon Pink for making it that far!  Atomic Blue (W) vs. Deep Orange and Neon Pink (W) vs. Maroon.
Playoff Bracket