Season 24 - Spring 2023
DCGFFL Season XXIV Championship Game Recap
Congratulations to Royal Tenenbottoms (Royal Blue) on beating Daddy Chill (White) and winning the Season XXIV championship trophy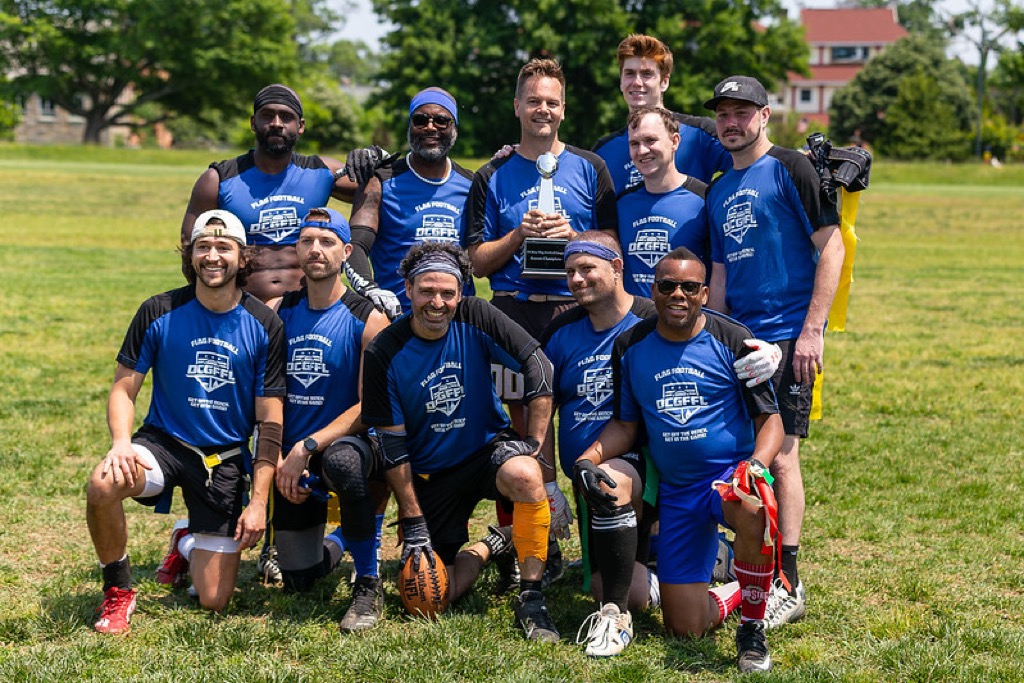 Congratulations to captain, Bryan Sanders, and quarterback, Brandon Waggoner, on leading their team to victory! See more photos from the championship game here! Thank you to ALL our players, refs, and supporters for a fantastic DCGFFL season!
Award Winners

DCGFFL Legend Award: Brian Donohoe, Sean Karson, Jared L, Peter Pham, Mike Z'Goda
John Boyd Ally Award: Garrett Schiponi
Michael "Snowy" Snowden Sportsperson Award: Dwaylan Applewhite
Golden Whistle: Joe Heron
Best Boo: Pedro S.
Best Fan: Scott Graham & Lucas
Women's+ Division Awards
Women's+ Division MVP: Nikki Kasparek
Women's+ Division Sportsperson: Linda Pratt
Women's+ Division Final Teams: Periodt and Purple Reign
Open Division Awards
Women's+ MVP: Camille Thompson
Men's+ MVP: Cam M.
Offensive MVP: Jim Connolly
Defensive MVP: Derrick Johnson
Women's+ Rookie of the Season: Lindsey H.
Men's+ Rookie of the Season: Andrew Hoyler
Blocker of the Season: Obie McNair
Rec. Division Awards
Rec. Division MVP: Eric Green
Rec. Division Sportsperson: Aubrie Odell
Rec. Division Champions: Coral
End-of-Season Video
Check out the end-of-season video here, courtesy of Matt H!