Season 23 - Fall 2022
DCGFFL Season XXIII Semifinals and Championship Game Recap
Congratulations to Oh My Goth (Black) on beating I Run Gay (Iron Grey) and Coral Fixation (Coral) on their road to winning the Season XXIII championship trophy!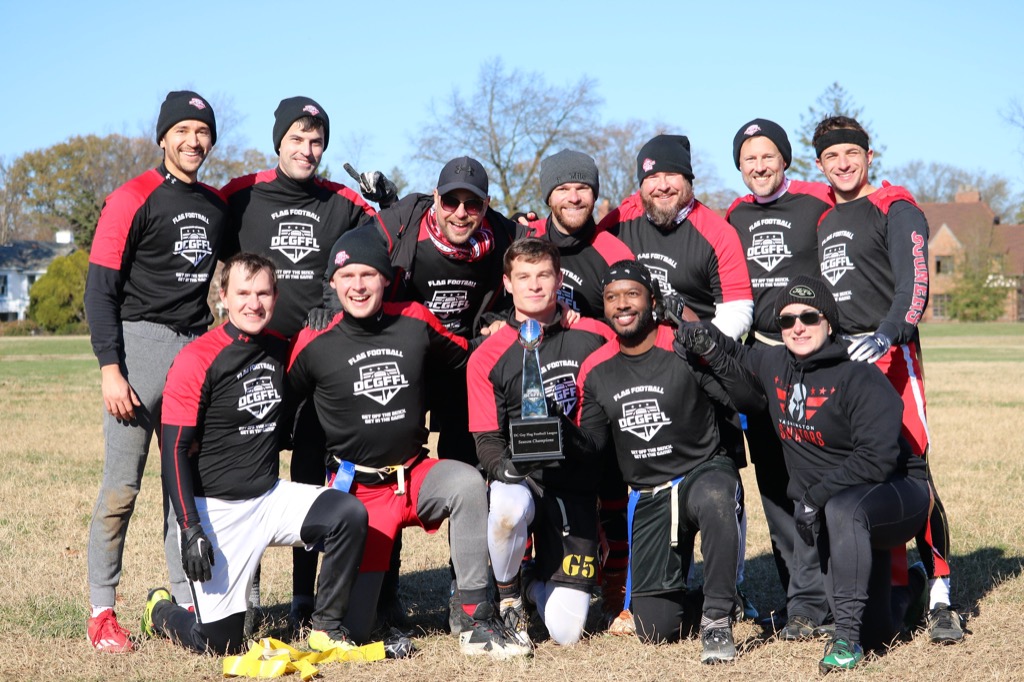 Congratulations to captain, JC Adams, and quarterback, Bryan Sanders, on leading their team to victory! With three championships, Bryan is now in a three-way tie for most DCGFFL championships by a QB.
See more photos from the championship game here! Check out the Season 23 Playoffs page to see Black's road to the championship and all other playoff results! https://dcgffl.org/season-23-playoffs/
Thanks to ALL our players, refs, and supporters for a fantastic DCGFFL season!
Award Winners
Congratulations to all of our Season XXIII award winners for their fantastic seasons and overall contributions to the league:
Charlie Salem Award: Trey P.
DCGFFL Legend Award: Brandon Benjamin, Sam Brown, Matt Cline, and Paul Guequierre
John Boyd Ally Award: Bryan Sanders
Michael "Snowy" Snowden Sportsperson Award: Tony Smith
Women's+ MVP: Mecha Santos
Men's+ MVP: Austin Plier
Offensive MVP: Bryan Sanders
Defensive MVP: Dwaylan Applewhite
Women's+ Rookie of the Season: Camille Thompson
Men's+ Rookie of the Season: Everett Walker
Golden Whistle: Mike Clisham
Best Boo: Dan Lebiednik (Stephanie McDaniel's boo)
Best Fan: Amanda Dafonte
Rec League MVP: Jonathan Kummerer
Rec League Sportsperson Award: Paul Haakenson
Rec League Champions: Red
End-of-Season Video
Check out the end-of-season video here, courtesy of Cameron M!
Your Season XXIV Board
With the end of the season comes a new board to introduce! Thank you to our outgoing members, Kevin Comerford, Amanda Dafonte, and JJ Johnson, for their hard work to help make Season XXIII possible! The incomparable JJ Johnson retired from the board after serving as a board member for a total of 17 seasons. JJ has been instrumental in founding and sustaining the DCGFFL over the past 12+ years.
The DCGFFL Board for Season XXIV consists of:
Commissioner: Logan Dawson (continuing)
Director of Players: Paul Whitney (newly elected!)
Director of Communications: Munroe Bell-Rose (continuing)
Treasurer: Ryan Viessman (re-elected!)
Director of Operations: Patrick Barboun (newly elected!)
Social Director: Judy Hasty (newly elected!)
Director At-Large: JC Adams (continuing)
Thank you as well to all candidates who ran in our most recent elections and were willing to volunteer their time to give back to the league!